The New 2021 Chevrolet Trailblazer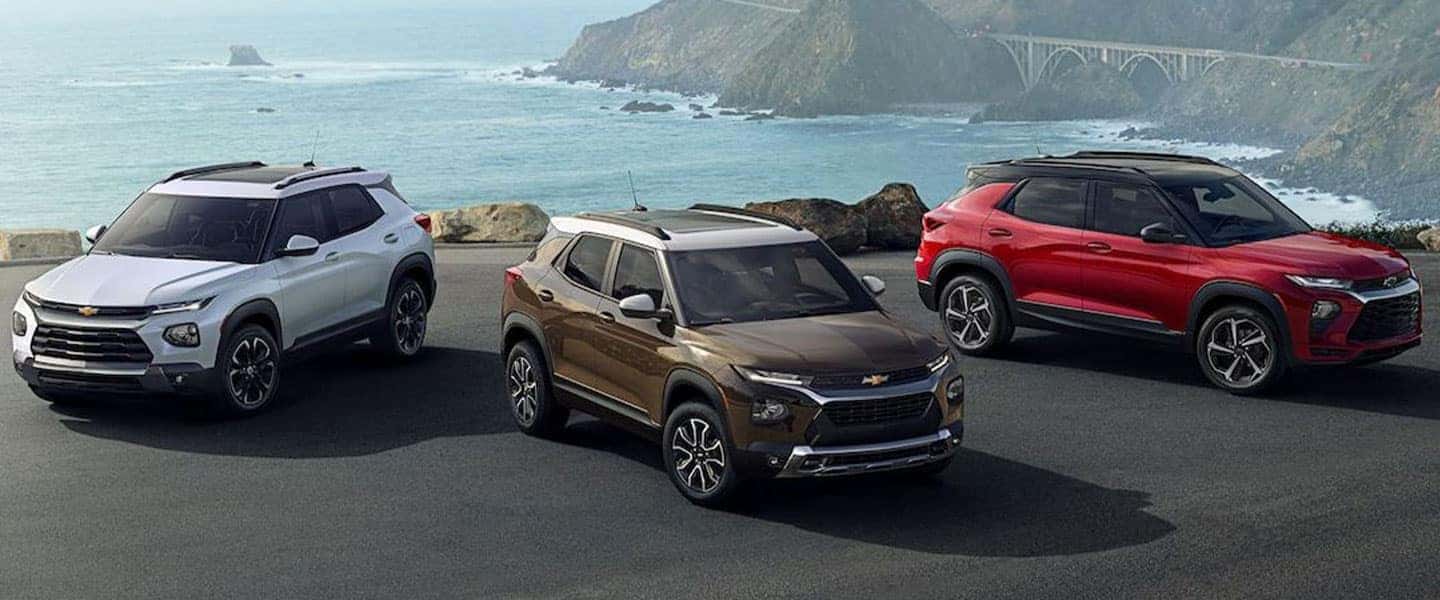 Did you know that the new 2021 Chevrolet Trailblazer won a Wards Automotive 10 Best UX trophy? This SUV is packed with not just plenty of user-friendly features, but they also come standard in most trims as well!
Combine this with its low price point, and this new Chevrolet Trailblazer is a contender for your next vehicle purchase. If you're interested in reading more about the key features, spec, and a detailed breakdown of all the amiable trim levels, then read on. In this article, we'll show you everything the new 2021 Chevrolet Trailblazer has to offer you!
5 Available Trims
The Chevrolet Trailblazer comes in 5 available trim choices: L, LS, LT, Activ, and RS. We're happy to tell you that no matter which trim you choose, you can count on Chevy to pack it full of features, so your experience is top-notch. So, what does each trim of this subcompact SUV come with?
L Trim
The base L trim comes with a 1.2L turbocharged 3-cylinder engine that's paired with a continuously variable automatic transmission (CVT) and front-wheel drive. This engine is capable of 137 HP.
Features that come standard with the L trim include 16-inch steel wheels and remote keyless entry. For the infotainment system, you'll enjoy a 7-inch touchscreen, wifi hotspot, 2 USB ports, Bluetooth, Android Auto, Apple CarPlay, and a 4-speaker stereo.
What's most notable is that this automotive brand has included the Chevy Safety Assist suite with their base trim. This means you'll benefit from features like automatic emergency braking, lane keep assist, lane departure warning, forward collision warning, pedestrian detection, and automatic high beam headlights.
Standout features:
• A 1.2L 3-cylinder engine with CVT: you'll have power on the road
• The comprehensive Chevy Safety Assist suite: drivers will get maximum safety even with the base trim
LS Trim
Next up is the LS trim. It comes standard with front-wheel drive, but you can always upgrade to all-wheel drive, which comes with a larger 1.3L turbocharged engine that's capable of 155 HP. It's paired with a 9-speed automatic transmission. Additional features that the LS trim comes with include 17-inch alloy wheels, a flat-folding front passenger seat, and 2 more speakers for the stereo.
If you want more with this trim, you can add the Driver Confidence and Cruise package for an extra fee. This adds cruise control, rear parking sensors, rear cross-traffic alert, and blindspot monitoring.
Standout features:
• Flat-folding front passenger seat: get more cargo room if you drive solo often
• 6-speaker stereo system: enjoy your music to the max
LT Trim
Like the previous trim, you can choose either front-wheel or all-wheel drive with the LT trim. And you can also choose between the 1.2L or 1.3L engine. Of course, all-wheel drive and the 1.3L engine will cost extra. Standard features that come with this trim include a power-adjustable driver's seat, heated front seats, remote start, push-button start, proximity keyless entry, and cruise control. As for the car itself, it'll come with fog lights, tinted windows, and roof rails.
Optional packages include the Driver Confidence and Confidence ones. The latter adds an 8-inch touchscreen to the infotainment system, as well as 2 more USB ports and satellite radio. You'll also get automatic climate control. Still want more? No problem! Other features you can add for extra fees are a panoramic sunroof, synthetic upholstery, adaptive cruise control, and a hands-free power liftgate.
Standout features:
• Heated front seats: never worry about cold drives anymore
• Roof rails: bring along your ladder, bike, skis, canoe, and more
Activ Trim
As the name suggests, the Activ trim is for those who love the outdoors life. While you can choose between front-wheel or all-wheel drive, this trim comes standard with the 1.3L engine.
Features that Chevy has given the Activ trim so you can make the most out of a rugged lifestyle include synthetic leather upholstery, a skid plate, and off-road-tuned shock absorbers. Here, you can add the Technology package. This gives you an 8-inch touchscreen, LED headlights, adaptive cruise control, wireless device charging, and a 7-speaker Bose stereo.
Standout features:
• Skid plate and off-road-tuned shock absorbers: off-road like a pro
• Technology package option: upgrade your infotainment system for maximum immersion
RS Trim
Last on the list is the RS trim. It's similar to the Activ trim, except without the off-roading equipment.
Instead, you'll get sleep black exterior accents, as well as 2-tone cloth and synthetic leather upholstery and 18-inch alloy wheels.
Standout features:
• Black exterior accents: turn heads wherever you go
• 2-tone cloth and synthetic leather upholstery: get a car interior that's as sleek as the exterior
Good Gas Mileage
Typically, SUVs don't get good gas mileage. They are huge vehicles with some power behind them, after all. However, the 2021 Chevrolet Trailblazer is quite impressive when it comes to fuel efficiency! It gets 28 MPG in the city and 31 MPG on the highway with the 1.2L engine, which is above average for SUVs.
What's even more surprising is that with the bigger 1.3L engine, the fuel efficiency actually improves! You'll get 29 MPG in the city and 33 MPG on the highway if you opt for this engine.
A Smooth Ride
SUVs can be unwieldy, but not the 2021 Chevy Trailblazer. Despite its size, the turning radius is small and the steering is amazing and responsive. In addition, the suspension is fantastic. What this means is whenever you're on the road, you'll have a smooth ride, feeling as if you were driving on clouds.
Excellent Safety Rating
As you've read already, every trim of the 2021 Chevrolet Trailblazer comes with plenty of safety features. So it should come as no surprise that the NHTSA has given it an overall rating of 4 out of 5 stars! You and your passengers will definitely be safe whenever you're in this vehicle.
Get the New 2021 Chevrolet Trailblazer
As you can see, the new 2021 Chevrolet Trailblazer is everything you could dream of, and more! With its 5 excellent trim choices, good gas mileage, smooth handling, and amazing safety features, as well as its user-friendly features and low price point, this SUV is the perfect package.
So, look no further if you need to buy a new car soon. The Chevy Trailblazer will make both you and your wallet happy! If you believe the 2021 Chevrolet Trailblazer is the right car for you, then come visit Patriot Chevrolet Bartlesville today! We are open Monday through Saturday.