The New 2022 Chevrolet Traverse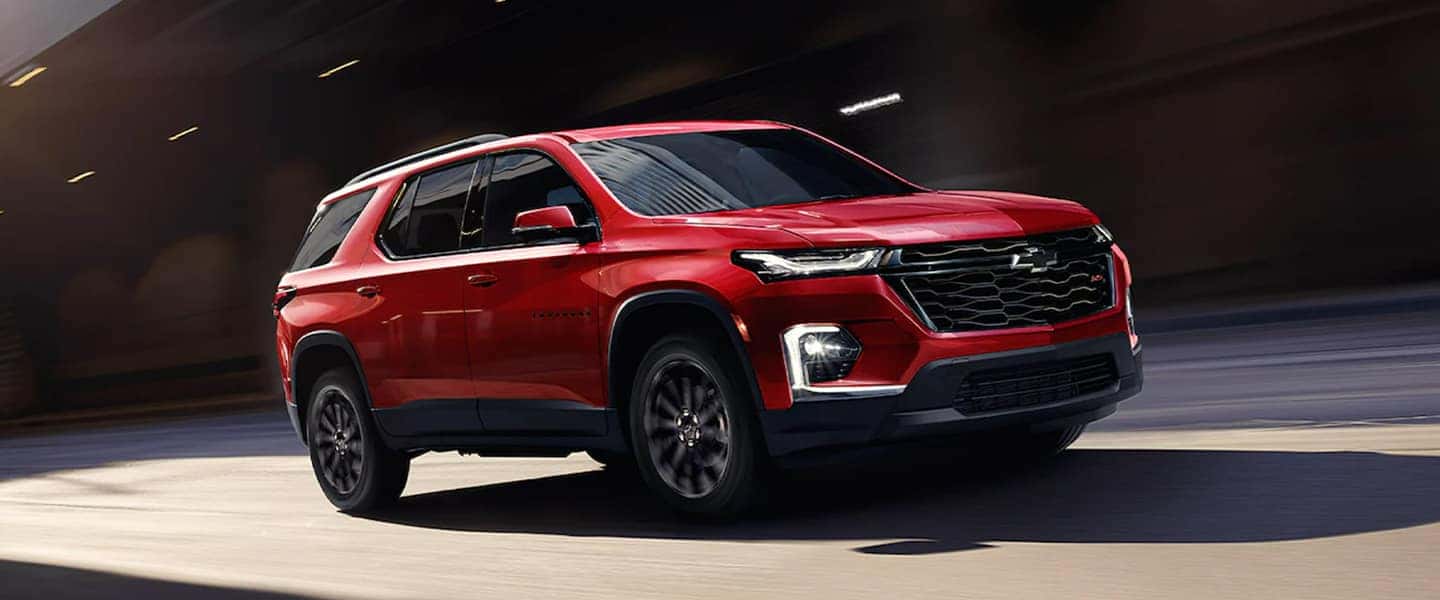 The new 2022 Chevrolet Traverse is back, and once again, it's a serious contender for best-in-class full-size SUV. With a 3.6-liter V6 engine pumping out a heart-pounding 310 horsepower, and 23 cubic feet of cargo space, the new Traverse has plenty of power and still has all the space you need to haul your gear wherever your journey takes you. This year, the Traverse features five stunning trim levels to choose from, so the only question left to ask is which one's right for you.
The New 2022 Chevrolet Traverse Specs
All five trim levels on this year's Chevy Traverse have a few things in common. They all have a stylish, modern design, powerful 3.6-liter V6 engine, ample cargo capacity, and seating for up to 8 people. They all feature front-wheel-drive, and every one of them is equipped with Chevy's new 9-speed shiftable automatic transmission. Plus, each one boasts an impressive suite of state-of-the-art tech and safety systems.
The New 2022 Chevrolet Traverse Safety Features
Few vehicles on the market have as many cutting-edge safety features as the new 2022 Chevrolet Traverse. Available systems include the following:
A Pre-collision warning system
Automatic emergency braking
A high-definition camera system
A blind-spot safety system
Parking sensors
And cross-traffic alert
There will always be some risk involved with driving, but drivers and passengers alike can rest assured that the best technology on the market is protecting them when they ride in the brand new 2022 Chevrolet Traverse.
The New 2022 Chevrolet Traverse Tech Systems
The New Traverse was designed with the future in mind and features a number of the best tech and entertainment systems money can buy. Keep an eye out for the following epic available tech features in the new 2022 Traverse:
Wireless Apple CarPlay and Android Auto
An Available 8-inch Touchscreen Infotainment System
SiriusXM Satellite Radio with Bluetooth
Voice Guided Navigation
These are just a few of the awesome features available in the new 2022 Chevy Traverse. Regardless of which trim level you choose, you'll also have a banging sound system with sub-woofer combo for blasting your favorite tunes the way they were meant to be heard, an intuitive infotainment system, USB chargers, and much more.
The New 2022 Chevrolet Traverse Trim Levels
Now that we've gone over the specs, tech, and safety systems you'll find in the all-new Chevy Traverse Models, let's see what makes each of the five trim levels unique, attractive, and perfect for your next new vehicle.
The New 2022 Chevrolet Traverse LS
The LS is the base model of the new 2022 Chevrolet Traverse, but don't let that fool you. The new 2022 Chevrolet Traverse LS is a stylish, well-equipped SUV with all the performance and capability you would expect from a high-end modern vehicle.
Some of the best features of the LS include premium cloth seating, an onboard Wi-Fi hotspot, 4-wheel ABS, an alarm with engine demobilization, an anti-theft system, front pedestrian braking, and much more. In other words, although this is the base model, it's far from basic. The new LS is equipped with many features that you won't find in another SUV for the same great price.
So, if you're looking for a sweet new SUV that features the best modern tech and safety systems for a price that won't break the bank, then look no further than the all-new 2022 Chevy Traverse LS.
Standout Features:
Front Pedestrian Breaking System
Onboard Wi-Fi Hotspot
The New 2022 Chevrolet Traverse LT
A step up from the LS, the new Traverse LT takes things to another level. You'll still get all of the features included in the Traverse LS, but the LT also includes a few things that you won't want to miss out on, such as voice-guided directions, a 6-speaker sound system, a pre-collision warning system with pedestrian detection, and more.
Considering that the new Traverse LT doesn't cost much more than the LS, it's a no-brainer. You'll be glad you went with the LT as you cruise down the highway pumping your playlist from the powerful 6-speaker sound system equipped in the new 2022 Chevrolet Traverse LT.
Standout Features:
Voice Guided Navigation System
Pre-Collision Warning System with Pedestrian Detection
The New 2022 Chevrolet Traverse RS
The RS takes things up another notch yet again. With all of the great features found in the LT and LS, as well as a ton of other exciting options, the RS might just be the best overall full-size SUV for the money. The first thing you'll notice when you hop in the new Traverse RS is the premium leather seating throughout, which feels like you're sitting on a cloud. But is it heated? You know it!
You'll also notice that the stunning HD touchscreen infotainment console seems a little bit bigger in the RS. That's because it is. The RS features Chevy's top-end 8-inch touchscreen display, as opposed to the smaller but still awesome 7-inch display in the LT and LS models. The RS also features a new game-changing multi-view camera system, along with rear cross-traffic alert, which makes backing in and out of tight spaces a breeze.
Standout Features:
Upgraded 8" Touchscreen Infotainment Display
Premium Heated Leather Seating Throughout
The New 2022 Chevrolet Traverse Premier
Now we're getting in the big leagues. The new 2022 Traverse Premier features everything you could want in a modern full-size SUV. Not only does it come with all of the other premium features included in the RS, LT, and LS, but the new Traverse Premier also boasts a vibrating driver's seat warning system, rear parking sensors, a surround-view camera system, plus a next-gen adaptive stop-and-go cruise control system that makes long road-trips not only doable but blissful.
If you're ready to get into an SUV designed for power, performance, and pleasure, then the only vehicle on your list this year should be the new 2022 Chevrolet Traverse Premier.
Standout Features:
Surround View Camera System
Adaptive Stop-and-Go Cruise Control System
The New 2022 Chevrolet Traverse High Country
For those who demand excellence, who crave the best-of-the-best, for those who refuse to settle for second best, Chevrolet has heard you. The new 2022 Chevy Traverse High Country is the full-size SUV you've been waiting for.
With all of the best features on the market this year, and a few you won't find anywhere else, the new 2022 Traverse High Country offers all the power and performance you could ask for in a futuristic new vehicle, including a best-in-class BOSE surround sound system, a blind-spot detection safety system, ventilated heated seats, and so much more. If you want the best, there is, then you want the new 2022 Chevrolet Traverse High Country.
Standout Features:
Best-In-Class Bose Surround Sound Audio
Blind-Spot Detection Safety System
What more could you want in an SUV?
The new 2022 Chevrolet Traverse is powerful, stylish, capable, and features some of the best tech and safety systems available on the market, and that's just the base model. So, what are you waiting for? Get in touch with Patriot Bartlesville Chevy today to learn more or book a test drive.
We appreciate your interest in our inventory, and apologize we do not have model details displaying on the website at this time. Please fill the form out below and our team will quickly respond, or, please call us at 918-601-5205 for more information.